So excited to introduce those of you who are not already acquainted with the lovely Ashley Brooke Toussant! 
1.Hi Ashley! Tell us about yourself and what you do?
I am 28. I am a newly married lady. (this all happened on my Birthday on April 21st) I am a singer-songwriter. Several times a month I play at venues, art hops, house concerts. I write my own tunes. I released my first full length album, Sweetheart last September. I play mostly in Northeastern Ohio but have played outside the state quite a bit. This June I'll be traveling to The Pacific Northwest (on my Honeymoon) to play a few shows in Portland, Pendelton (Oregon), Olympia, Seattle and Vancouver (British Columbia). I play solo (singing and playing guitar) or with a folky sort of Soft sweet Country style band.
2.When did you start playing music, who was your most important teacher?
 My Mom and Dad were/are great singers. They sure taught me to sing and be proud. I took voice lessons. I had two wonderful teachers Laurel and Jean who noticed the uniqueness of my voice, two teachers that taught a classical style but paid attention to my likes, my style and made sure I honed in and taught me to be my own voice as well as how to stay in tune and breathe correctly.. etc. They were both great teachers in paying attention to what worked for me.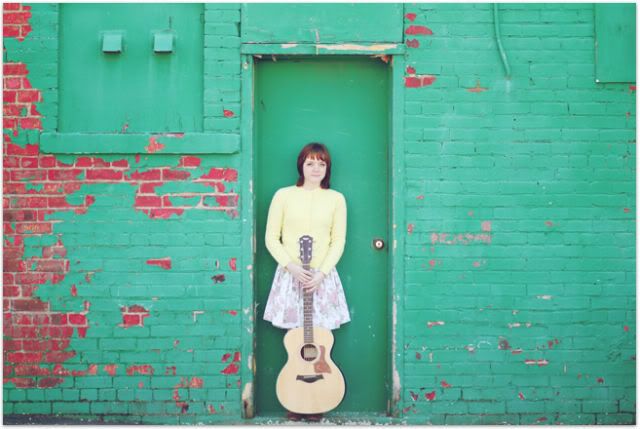 3. You have such a unique style of singing, what musicians would you say have influences your style of music?
I grew up with Barbara Streisand, Whitney Houston, Neil Diamond, Andy Williams. I would not only memorize their songs but if they were LIVE Concert albums, I memorized their banter in between. I always have that showiness mentality in the back of my mind, ha..for good or bad...I like to perform. Today and really for the past eight years, I have paid such close attention to what the singer is saying. I love lyrics!!! My favorite stories are songs too. I started striving to be a better writer because of Patty Griffin and her album, "Impossible Dream." I love all (well most) things old. My album Sweetheart was heavily influenced by my appreciation for Henry Mancini. What beautiful melodies he wrote. They are classic and undeniably romantic! I like to bring some old fashion romanticism to my acoustic guitar..I am so certain of what I don't want to sound like but I hope to continue to strive and develop what I want to say..I love El Perro Del Mar, Laura Gibson, Camera Obscura, Feist, Arcade Fire..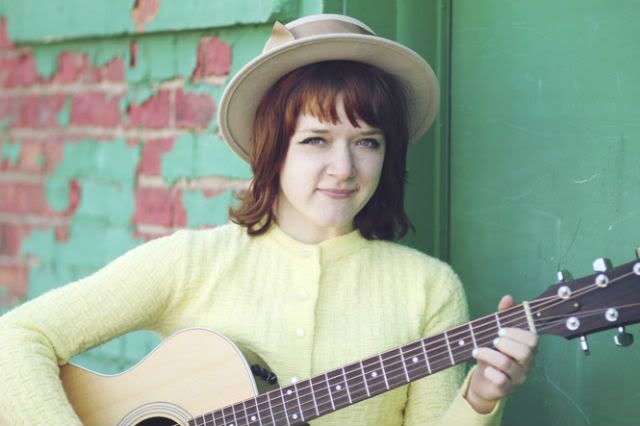 4. Tell us about performing, have you always felt comfortable on stage or was it something you had to learn?
I've always had a sort of comfort on stage. It has heightened, lowered and come back through the years. When I was really young I would sing for anyone and was quite the ham. I have gotten more shy for the most part as I have aged. But it doesn't take me too long to reach a satisfying comfort when I sing for people. I am so thankful for this outlet. I am myself (the self that after I get to know you I'll open up and relax and be fun:)) when I am playing a show.
5. Besides music, what other passions do you have?
  I love vintage. I have a strong passion to fill my closet with gems from the 50's and 60's. I love reading Autobiographies of old film stars. This has matured from having an obsession of reading about Presidents when I was younger. I had President flash cards. What a solid way to end this interview on. Ha. I love learning about people and the journey that brought them.
Thank you so much Ashley! Patty Griffin is one of my all time favorites, I love the stories she tells through her music. 
Well the lovely Ashley is giving away a copy of her full length album sweetheart to a lucky manzanita reader.
To enter simply make sure you are following manzanita via bloglovin, hellocotton, twitter, or facebook and leave a comment saying so.
After that visit Ashley's website and leave a comment telling us about something lovely you found!
For an extra entry follow the lovely Ashely on twitter and Facebook.
Leave a comment for each entry so they can be counted please and good luck! This giveaway will go until next Tuesday, May 8th, 2012.
Find Ashley elsewhere
website/bandcamp/twitter/facebook
photo credit: #2 & #5-Shannon Sullivan
For now I will leave you with one of Ashley's lovely videos...